I am Committed to Salvaging Reusable Materials, Reducing Landfill, Upcycling Vibrant Decorations & Educating the World in the Magic of the Circular Economy.
Hi, my name is Kirsty Little and I am the woman behind Little ReCreations
I have been working in the Live Events Industry for over 15 years and I love what I do, the variation, the people, the places – I feel very lucky to  have a job I enjoy, which I am passionate about and which naturally gives me a work/life balance.
I stumbled into the world of events after leaving University where I had been studying Contemporary Lens Media, the need of a job and an interesting opportunity set my career path…
In 2012 I had the opportunity to volunteer at a Community Festival, I was asked to become the Production Crew Manager, recruiting, organising and managing 400 volunteers onsite. This was a massive opportunity for me to develop my skills and to explore the world of Festivals but the company I was employed with at the time refused to give me the required time off ….. so I quit!
My Mum thought I was mad, leaving a secure job to go and 'prance around' in a field for two weeks, and it was a scary jump, I had been in full-time employment since finishing my education, but I knew it was what I needed to do to progress and grow my own skills. It was the best decision I ever made! I have since travelled the world working on large scale live events for a multitude of Corporate Companies and I spend my Summers working on Festival sites in Management and Creative roles.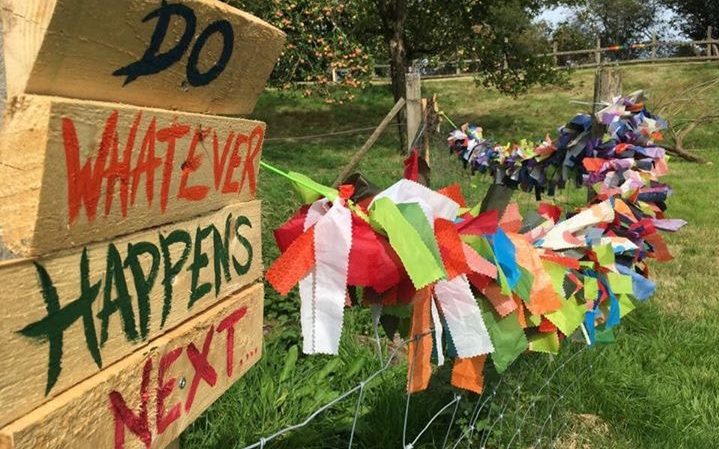 Working for myself has encouraged me to explore different interests, I have the time to potter in my garden and flex my not-so -green fingers in my greenhouse, I design and make crocheted items
(available in my shop here)
. I spend much more time having random adventures with my partner Josh and our super grumpy Ginger Tom cat and, of course I have been able to focus my passion for up-cycling, creating and educating by creating and building up
Little ReCreations
.
"Sometime we have to stop being scared and just go for it.
Either it'll work, or it won't. Thats Life!"
– Alex Elle
One thing I have NEVER understood about festival goers is how they can enjoy the beautiful landscapes and iconic countryside for the duration of the festival – then leave such a wasteful mess behind them when they leave. It baffles me how anyone could happily abandon the refuse from their whole weekend, including perfectly good tents and camping equipment. After walking miles around different festival sites staring in horror at the apocalyptic scenes first hand, I knew I had to be part of the solution to clear up our countryside and prevent tonnes of perfectly good equipment going to landfill. I began by speaking to my industry contacts to see whether anyone else was feeling similarly outraged at the wasteful attitude of the average festival goer, and happily discovered that I was not alone.
In 2016, I joined the Festival Waste Reclamation & Distribution group and spent an afternoon walking through campsites at Boomtown Fair, helping various charities to collect any items that could be passed on to people needing a helping hand.  These items included brand new tents, chairs, sleeping bags, pillows, torches, sunglasses, hats, clothing, and food.
FWRD do an incredible job by linking up festivals to a huge range of different charities and not-for-profits around the country, and managing the salvage operations for different festival sites.
It was at this first salvage that I met Angus and Mark from Herts for Refugees, an amazing charity who ensure that refugees get the help and respect they deserve.
Whilst walking around the sites, I noticed that while many of the tents were damaged and un-usable, the fabric was fabulous! The colours were bright and some of the patterns were absolutely stunning – surely there was something I could do with that? So I started collecting it.
I had no idea what I was going to do with it all, but in just four hours I had collected three bin bags full of beautiful, colourful fabric… and that was only from one field!!!
There are so many brilliant charities that rely on our throwaway society to support people in need, and many more people who are extremely grateful to be receiving new bedding, clothes, food, and shelters due to wasteful festival goers. But there is simply too much waste for these small organisations to manage and despite armies of willing volunteers scouring festival sites to collect supplies, there is still so much that goes to landfill unnecessarily.
Once I got home with my three-bag haul of fantastic fabrics. I got straight down to washing everything thoroughly before cutting it into strips with my pinking shears (scissors that cut fabric into a nice zigzag edge – and also helpfully stops material from fraying).
With a little help from my friends, we created the first few meters of Tent Tinsel, and it looked amazing.
From there, my imagination and ideas have continued to grow… as has the range of decorations I can make using ALL components from the average festival tent – poles, clips, material, etc. – as well as a variety of other items found and adapted from festival site junk.
With an ever-growing range of products and many more ideas being developed, I am now hiring these newly up-cycled decorations back to the festivals they originally came from, often to decorate their campsites (how ironic!).  They are also being used for private functions, weddings, local fairs, fetes, and parties.
I am still very much involved in helping FWRD at festivals, in particular Herts for Refugees. I still enjoy pottering around campsites with my scissors alongside Angus and Mark (plus any other friends I manage to drag along) stripping down the broken tents and reducing (strip by strip) the amount of waste that unfortunately still ends up in landfill.
As well as funding my own creative initiative, I am also passionate about continuing to support all the charities doing incredible work redistributing festival site 'junk' to people who really need it.  That is why 20% of all  profits from Little ReCreations up-cycled decorations are donated to a selected charity each year – check out who is being supported via the link here.